What nutrients should be provided to them, or what should we apply to their skin. These are big decisions for every new parent. And it's outstanding! As new parents, we all are conscious of our little angels.
Bacitracin is considered to be one of the most effective ointments of all time. It's mainly effective on scrapes, burns, or even slight cuts. However, doctors always recommend that if you are allergic to any such ointments or medicines you should always avoid them. 
So, in this blog post, we'll know all the essential information on Bacitracin and know if Bacitracin is safe for babies or not. Therefore, continue reading to know it all.
Is Bacitracin Safe for babies and Easy to Apply?
Bacitracin is an ointment for the treatment of skin injuries like:
Cuts
Skin scratches
Burns
Abrasions
Moreover, this medicine is used to prevent bacterial infection on the skin by stopping the growth of a particular type of bacteria. This drug should not be used in any kind of skin fungus or eczema.  
Even this medicine is used for skin infection purposes only. So it is entirely safe to apply on the minor wound on babies. You should follow all the directions provided on the product package or be directed by a doctor's recommendation.  
Follow the below instructions.
Wash hands

Clean the wound area with the alcohol pad

Take a suitable amount of Bacitracin ointment.

Cover the area with gauze or a bandage.

Rewash your hands after applying it.
Apply it 1 to 3 times a day for better results. Avoid this medicine using around the eyes, nose, and mouth area.
Is Bacitracin an Antibiotic?
Bacitracin is petroleum-based jelly. This petroleum jelly contains a small amount of bacitracin zinc to kill germs and create antibiotic ointment.
This medicine is based primarily on these two ingredients. Bacitracin belongs and is counted as an antibiotics class.
Bacitracin is a polypeptide antibiotic that inhibits cell wall synthesis and is active against gram-positive bacteria.
Overdose of this medicine can be harmful or burn the injury area by overusing this product.
 If your child is allergic to certain chemicals or ingredients, make sure to check the ingredients list before applying to your baby.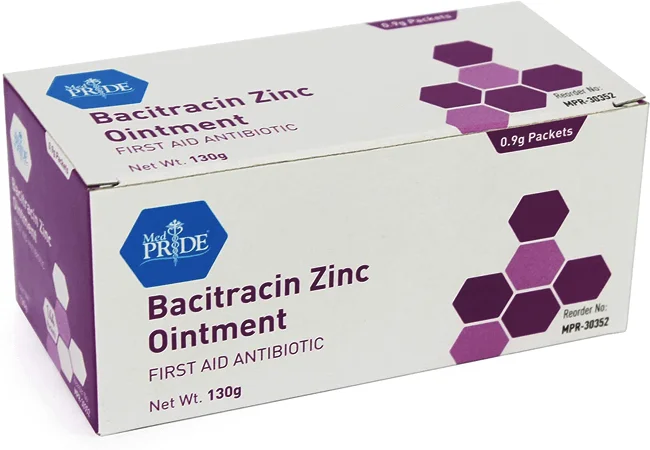 Is Bacitracin Harmful for Your Unborn Baby? 
Is bacitracin safe for babies? The answer is yes! It's completely safe. However, it's better to discuss it with your doctor if you are pregnant or planning a family.
Pregnant women can apply this ointment without any hesitation. It won't harm the infant or unborn baby in the mother's womb. 
Moreover, if you are nursing or breastfeeding your baby, it is also safe to use this ointment. It won't be able to pass through breast milk either. You should also consult your doctor to apply bacitracin while nursing or breastfeeding your baby. And this medicine should not be taken without medical advice on a child younger than two years old.
Still, if you have any doubts or questions, always ask your doctor or pharmacist before using them.
Can Bacitracin be Used on Diaper Rashes? 
Any type of antibiotic ointments containing ingredients such as neomycin, polymyxin, or bacitracin should not be used for diaper rashes.
The diaper rash happens due to frictions. Babies have sensitive skin, and when the diaper rubs a baby's skin, it makes a baby cry because of the irritation and pain. It's best to apply a diaper rash cream on your baby's bottom every time you change the diaper.
Moreover, there are also chances that your baby might face rashes and even worse infections if the pee stays and gets soaked in their diapers. As a cautious parent, you simply won't want your infant to face such issues. So, to prevent this from happening, you can bathe your baby daily in lukewarm water to prevent rashes and infections.
Possible Side Effects of Bacitracin Ointment
There is no side effects or allergic reaction to this drug. Yet, if you are allergic to bacitracin, then avoid using it. It's also not safe to use if you are suffering from any type of Ear infection like:
Chronic ear infections
Punctured eardrum
Avoid using it with any type of moist substance: lotion or cream. After using it, if you felt or saw any severe allergic reaction like rash, itching, swelling, and trouble breathing, immediately contact your doctor and stop using this product.
Other reactions could be swelling of the face, tongue, throat – this is not the whole list of plausible allergic reactions.
Warnings:
Do not overuse it or do not apply large amounts of this medicine.
Do not use this product longer than one week unless consulted by a doctor.
If the area burns/ irritates, then wipe off this medicine and rinse it thoroughly with normal water.
Consult with your doctor if the wound is not showing improvements after seven days.
Always check the expiry date before using it.
Keep out of reach of children
How to Use a Spray Form of Bacitracin?
No matter if it is about mosquitoes spray or any ointment spray, you should come to know how to use it properly.

As we already mentioned, bacitracin has two forms. And one of them is the spray. 
It is easy to use the spray bacitracin in your petite injuries. 
All you have to do is clean the wounded area and spray it gently, don't use more than recommended or instructed by the doctor. 
Always shake – each time- before using bacitracin spray and cover it with a gauze or sterile bandage to prevent it from being in touch with germs.
If you are applying this ointment spray on your child, cover it with a piece of cloth or hands to avoid it getting on the face, mouth, or throat. 


Bottom Line
Are you still asking the same question in the beginning; Is bacitracin safe for babies? A hundred percent of it's safe for external use only.
Bacitracin is an ointment. Everyone should keep it in their first aid box. Bacitracin comes in both liquid and spray form. Moreover, Bacitracin is entirely safe to use on children who are above 2 years. It's still recommended to consult with your doctor first before applying them to your little ones.
If you have naughty toddlers or teens, you should keep this ointment in your first aid box at home for (external use only). 
Your precious little ones need you the most. Always take care of yourself and follow all the instructions given in the product before applying it.